It's hard to believe that this was my first time at WOMAD. But when one joins a Pipe Band it pretty much wipes away WOMAD weekend, because that's invariably when the National Pipe Band competition is held. This year however our band wasn't going to compete, so in anticipation of this rare occurrence, I bought 4x whanau tickets to WOMAD and booked a Jucy van to get us from Auckland to New Plymouth. From what I'd heard, the journey to the event is as much a part of the experience as the festival itself. Sadly, while the journey was a spectacular drive, the news on the radio was horrendous. As the massacre in Christchurch unfolded, we wound our way through the King Country and arrived in New Plymouth shocked and sombre. Queuing to park the van; set up camp; meet our neighbours and get our heads around the programme helped to lift our spirits somewhat. As the afternoon faded on a day that will be forever etched in our collective memories, we made our way to the TSB Bowl to begin the WOMAD experience.
Naturally, there were some acts I had in mind that I hadto see and others that were possibilities depending on logistics and timing. Mostly, I wanted to see artists I hadn't heard before and be immersed in a new audio, visual and spiritual experience. First up was the Congo-born, Belgium-raised artiste, Baloji.
Gorgeous head-ware, stunning, sinewy dance moves and an incredible backing band all blending with a funky, 70's aesthetic was completely infectious. His wit, charm and sensuality reached me from my shoulders to my hips. There was layering (particularly the percussion) and subtlety within the music, but also rhythmic punches and sophisticated musicianship where the band were not merely accompanying Balogi but as one with him.
Next was one of my must-sees, The Original Gypsies, with three founding members of the Gipsy Kings who were huge in the 1980/90's. Back then, their big hit, Bamboléo, pumped up dance floors around the world with their special brand of rumba flamenca energy. Paul Reyes, Canut Reyes and Chico Bouchikhi reunited in time for WOMAD 2019. With 8 guitarists (all soloists in their own right), a keyboard virtuoso, bass, percussion and all lending their voices to the mix at some stage, these gentlemen were pure joy to watch and dance the night away with. Bravissimo! Our spirits had certainly been lightened as we walked up to the van with the crowds, Gypsy melodies and flamenco beats in our heads.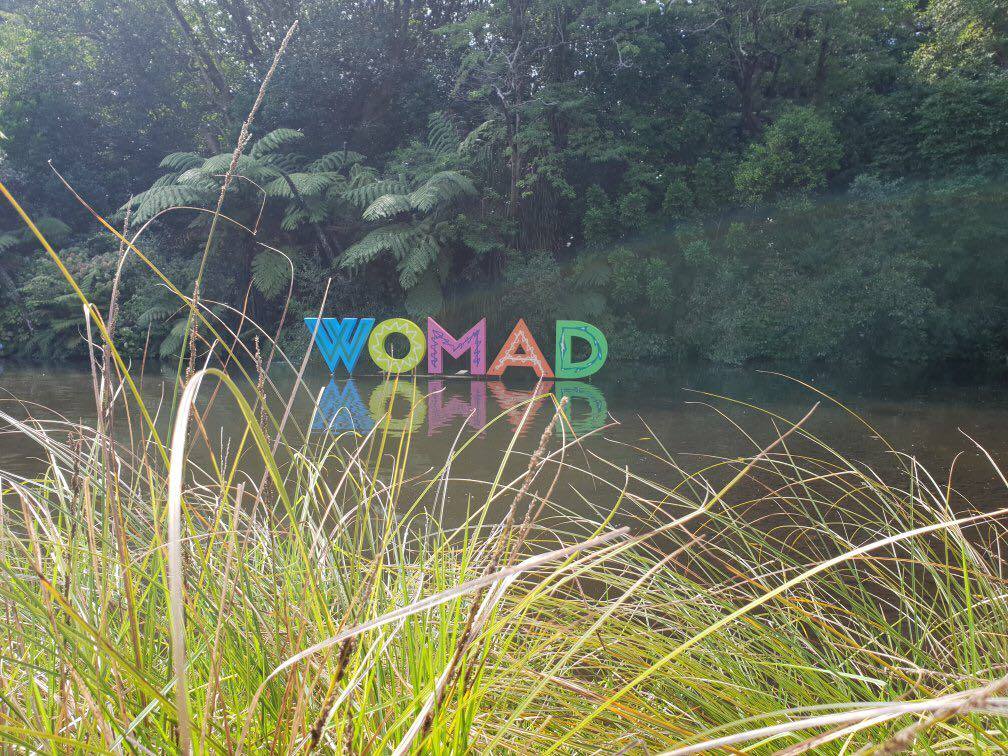 Saturday dawned a little cloudy but turned into a steamy scorcher. I intended to see 9 acts but am not ashamed to say I missed one due to being exhausted! Can't do everyone justice here, but every act I heard drew me in and allowed me to see a glimpse of their world. Ria Hall is a powerful performer and wahine. Her vocals soar, and her message empowers and teaches. Her album, 'Rules of Engagement' is taonga and I strongly recommend you take the time to listen to this work as it draws on universal themes of our collective humanity. All artists at WOMAD made mention of Christchurch during the weekend, but Ria Hall moved me the most with her wisdom in stating that all of "us" on stage have a voice and the responsibility alongside that voice to speak of aroha and understanding. She then led us in a karakia which bound us all together.
Sona Jobarteh is another powerful wahine. This pure goddess from The Gambia is a virtuoso Kora (21-stringed African harp) player. As the first female to be a virtuoso on this ancient chordophone, she breaks tradition with seeming ease. Her music blends traditional and modern as she brings the music into the present. She also runs 'The Gambia Academy of Music and Culture' in her homeland (which teaches many orphans), so if you buy her CDs, all proceeds go to this school. Her music is a gentle infusion of African poly-rhythms, jazz and pentatonic melodies. Memorising live, particularly the incredible 'call and response' with her lead percussionist, her recordings are just as exquisite.
Having watched the inspirational Silk Road Ensemble documentary which follows YoYo Ma in his journey to form a musical mega collective across cultures, this ensemble was another must-see, particularly with Cristina Pato performing in this particular iteration. Pato is a Galician bagpiper and classical pianist. As she spoke of immigration and how immigrants bring the best of their culture to set up roots in their new land, the poignancy of what happened in Christchurch the day before was not lost on us. Think of all the music, song and dance we have woven into Aotearoa alongside Maori waiata. The Dalmatians, Irish, Scottish, Chinese and countless others have brought their culture to the bottom of the world and enriched us with it. This is the philosophy of the Silk Road Ensemble. All outstanding performers and educators, these musicians bring their cultural philosophies to the ensemble to blend and bend musical expectations.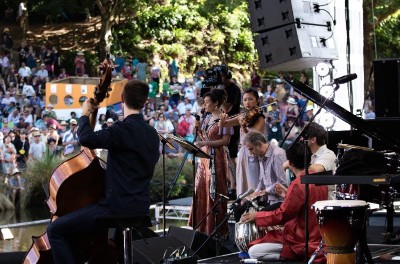 Having cooled down to The Black Seeds, grooved out with La Dame Blanche, and reeled with Jamie Smith's Mabon, I finished the evening with Shantel & Bucovina Club Orkestar. This pure Euro-gypsy-Balkan beat fest relies heavily on the off-beat to get everyone on their feet. "Disko, disko partizani!" Traditional brass interjections and accordion flourishes make for pure rhythmic fun. Off to bed after all that dancing.
I finished the weekend with a real treat on Sunday, and something unexpected, the Estonian duo Maarja Nuut & Ruum. This disconcerting and memorising music used dissonance, electronica, violin, vocals and traditional narratives to cast a deep spell of something very earthy and slightly creepy. Industrial undertones and futuristic overtones spellbound me.
All the acts spoke of music bringing us together in harmony and aroha/love, particularly following the aftermath of Christchurch. I couldn't agree more.
In the end, we only have the moment and being truly in the music in the moment is what WOMAD was for me. The time with family was also precious and I hope we get to do it again soon.
(DELYSSE GLYNN)