Shakey Graves is the first one to admit that he needed time away from his demanding touring schedule to create his latest masterpiece. With the new album Can't Wake Up under his hat, Shakey Graves will be delighting NZ fans with a one-off show at the Powerstation next month.
After a decade of extensive touring around the U.S and further abroad, the luxury of creative time was an essential element of creating the, "big, weird, psychedelic sound," of Can't Wake Up. While being on the road is more or less essential to an artist's survival in 2019, it's the creating, not the performing, that fills Shakey's cup.
"Whether I notice it or not, touring can be a pretty unhealthy and stressful experience. My goal is to create a career of longevity and I knew I needed a break to create."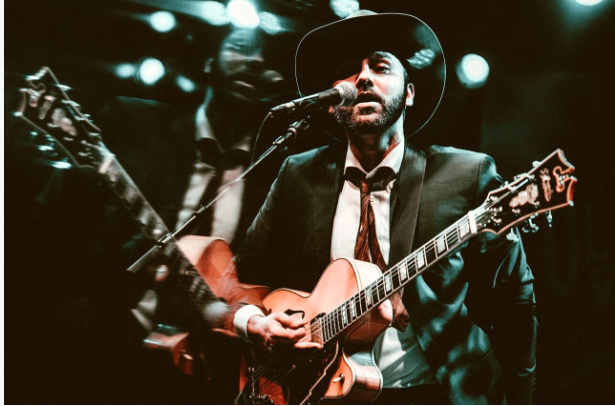 For someone with such a big international profile, Shakey manages to maintain a humble approach to his work and to his relationship with his audience. "I try to play music as a fan of music."
But, Shakey points out that a monotonous touring schedule can take the magic away from performing. "I definitely want it [performing live] to feel special when I do it," it seems taking some space from the road has reignited his love of the stage and allowed him to create something truly unique.
Everyone's talking about the stark differences between Can't Wake Up and Shakey's previous critically acclaimed work. It's fair to say that fans of the twang in previously released songs such as 'War Horn' or 'Hard Wired', might be a little shocked as they delve into the new chapter of Shakey. But the well-travelled troubadour explains that to those who see him play regularly, the shift isn't really a shock at all.
"I've wanted to make an album that sounds like this since I was about 15."
While this record wasn't intentionally auto-biographical, hindsight has made it clear that a songwriter can't help but drop in flavours of personal perspective into songs, even if they're trying their best not to.
"I suppose listening to the lyrics now makes me realise these songs were written in a nightmare-ish frame of mind. Even if I didn't realise I was in that place at the time."
Perhaps the biggest change between previous releases and Can't Wake Up is the level of intentional crafting that has contributed to this new era of Shakey's music. Having time to indulge in the creative depths of the recording process enabled the Texas-born boy to, "properly arrange a song. Rather than just writing something, sitting in a studio with musicians and going with what feels good at the time, I was able to go through every detail with a critical ear and really manipulate the guts of the songs."
Listeners can expect to hear a somewhat dreamlike record, one that amplifies Shakey's voice and the worries of others in society at the moment. In his words, the record is, "an audio version of the fears and hopes that accompany anxiety."
Can't Wake Up is layered, it's complex and each song has the ability to mean a dozen different things to each listener. It's a perfect example of how ambiguous writing can be so universally emotive. The man known for his suitcase stomping, Americana sound has released a piece of work that proves the importance of prioritising creative time and he's excited to bring the old and the new side of Shakey Graves to NZ shores.
What does Shakey listen to on the road? "Our tour bus often ends up in a round robin of songs. I'm on a bit of a Ramones kick at the moment, but I'm always listening to Numero Group Compilations. Which are basically a bunch of demos that never made the album cut, or never got picked up for a single."
Catch Shakey at the Powerstation on April 24th. Get tickets here.
(JENNY MITCHELL)