Last week Julia Jacklin released her sophomore album Crushing. The 10 track album depicts a life that we can all relate to. Second Hand News was lucky enough to have a chat with Julia prior to the album's release.
When asked if she was nervous about the release, Julia was very relaxed, "I'm very happy with the record so I'm not really that nervous to be honest. I really like it and feel confident about how it came out. Not everyone will like it and that's fine, that's just the way it goes."
Crushing has a different feel to it then Julia's previous record Don't Let The Kids Win, there is something about it that's a little more complete. She talked about her experience writing the second album.
"The first record I wrote in the three years leading up to it. I didn't approach writing with the idea of making a record. I needed songs to play shows, so it was written over a lot longer period of time. Bringing the songs together on the album was more about saying, 'which are the eleven best songs I've written and let's chuck em on. This one was a lot more concentrated. It was written mainly on tour, specifically in the car , in my journal and in my head. It talks more about that period of two years, not my whole life like the first one."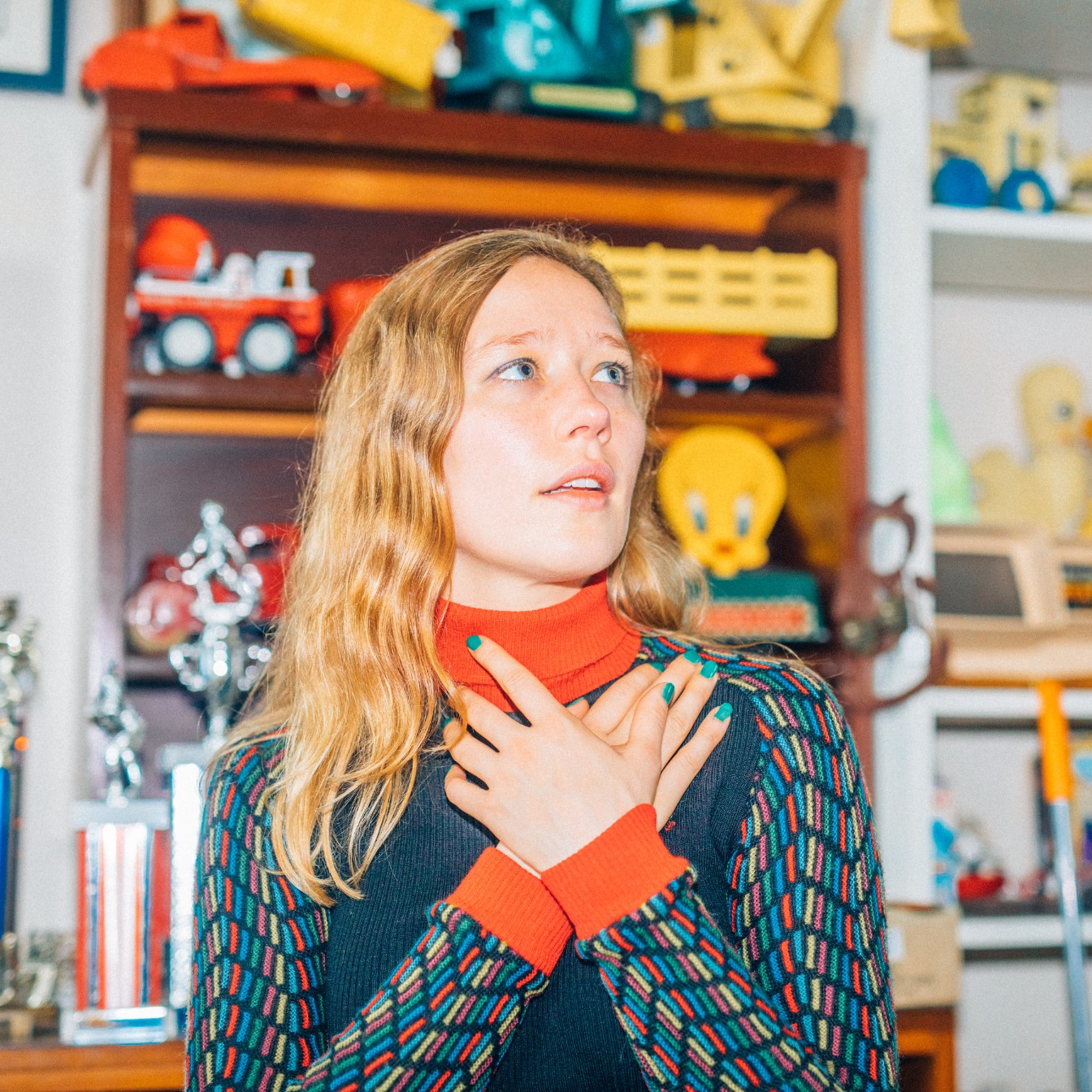 Even the writing was more direct, as Julia says she tried to be "less poetic" and felt like she was just writing to "get to the heart of what I wanted to say."
The album features some very raw and emotional tracks, like 'When The Family Flies In'; writing music like this can be a cathartic process.

"It's kind of therapeutic. Sometimes I'm motivated to write because I am experiencing something. I'm not completely sure why I am experiencing it or what it is, but it's really special to be able to take these complicated feelings and make them tangible. Sometimes they aren't that complicated, they're just human emotions, but you go and record it and then there's four minutes of condensed emotion. Sometimes I guess i'm just writing the songs I need to hear myself."
She also mentioned the idea of writing about a breakup from another perspective and the "difficulty and the pain of ending a relationship even if you're the one who ended it.

"I feel like there are so many songs that sympathise with the person who is being left so I wanted to write songs that are more compassionate to a relationship ending and how it can be difficult for everyone."
'Comfort', a lullaby of reassurance stands out, simply letting us know that all will be "cured with time". A simple song, as the album is, minimalism is the production of choice.
"I think it would be a shame to over produce these songs. I always think that production can remove you from the song. This genre I am in is all about minimal production. My favourite records are the ones where you can hear everything that is going on in a room, right down to their bodies moving and breathing, I really like that. It's about trying to stay true to my abilities. I want to do stuff that I can actually do live."
Julia is about to set off touring for the next six months. Touring is where this album really started.
"I feel like the logistics of touring are more intense than the actual songs. It's not like I'm opening up a wound every night on stage, it's stuff that I have already experienced, and you get into a bit of a routine. It does hit you at different times though. I've played Don't Let The Kids win a million times and some days I'll be on stage wondering if the catering will still be open and then some days I'll cry because I'm thinking about my sister. It does just come in waves. I think if it was either way the whole time then it would be terrible.It's nice to not know if the song is going to hit you on stage, it's the unpredictable nature of this job."
The tour is coming to New Zealand this week, and we're not the only ones excited, "I love New Zealand so much and it means a lot to me, I made my first record here and I've never really gone outside of Littleton, Christchurch and Auckland so I am happy that we are able to play a longer tour."
You can listen to Crushing on all platforms now, and get tickets to her upcoming tour here.
(BIANCA BAILEY)