Alistair Baxter is the mastermind behind a new folk series that pops up every now and again, called Ministry of Folk set in the Auckland Guide Centre, 132 Grange Road, Mt Eden.
We asked him a few questions ahead of their November show with Hoop, Tweed & Cameron Bennett. 
Where did the idea to start this series come from? 
I was strolling along Dominion Road and noticed an old church hall advertising for people to use it.  We were looking for somewhere to play and thought it would be the perfect venue for an acoustic show.  It was just the right size and had lots of character and a good stage.
Why the name Ministry of Folk? 
It's a take on "The Ministry of Sound" which was a dance music label in the 90's and of course the name seemed to fit with the church hall venue. 
What are you hoping to create from these shows? 
A chance for musicians to play an intimate acoustic set to an appreciative audience in a cool space. They don't necessarily have to be a folk act as such, but they need to do a stripped-back performance. I've always loved seeing bands in small venues. Hoop spend the afternoon setting up the hall and PA and,  as a reward for all the effort,  we get to play a short set too and meet some other musicians. 
We're just starting off Ministry of Folk, but hopefully it will be a regular thing if we can get the word out and get decent numbers turning up in the audience.  We've had great feedback so far. 
What's your background in music? Are you from folk clubs? 
I don't pretend to be a folk god but I did lurk around Cleethorpes Folk Club and Whitby Folk festival quite a bit. I played guitar and 5 string banjo and then when I came to NZ in the mid 1990s I got into playing in the Irish band scene.  Those were the glory days of Irish bands and pubs in NZ. It was fun so I did a few years of that – The Dirty Old Town circuit I guess! Then I stopped for a few years when we had kids but gradually got back into playing again more recently – like a moth drawn to a flame.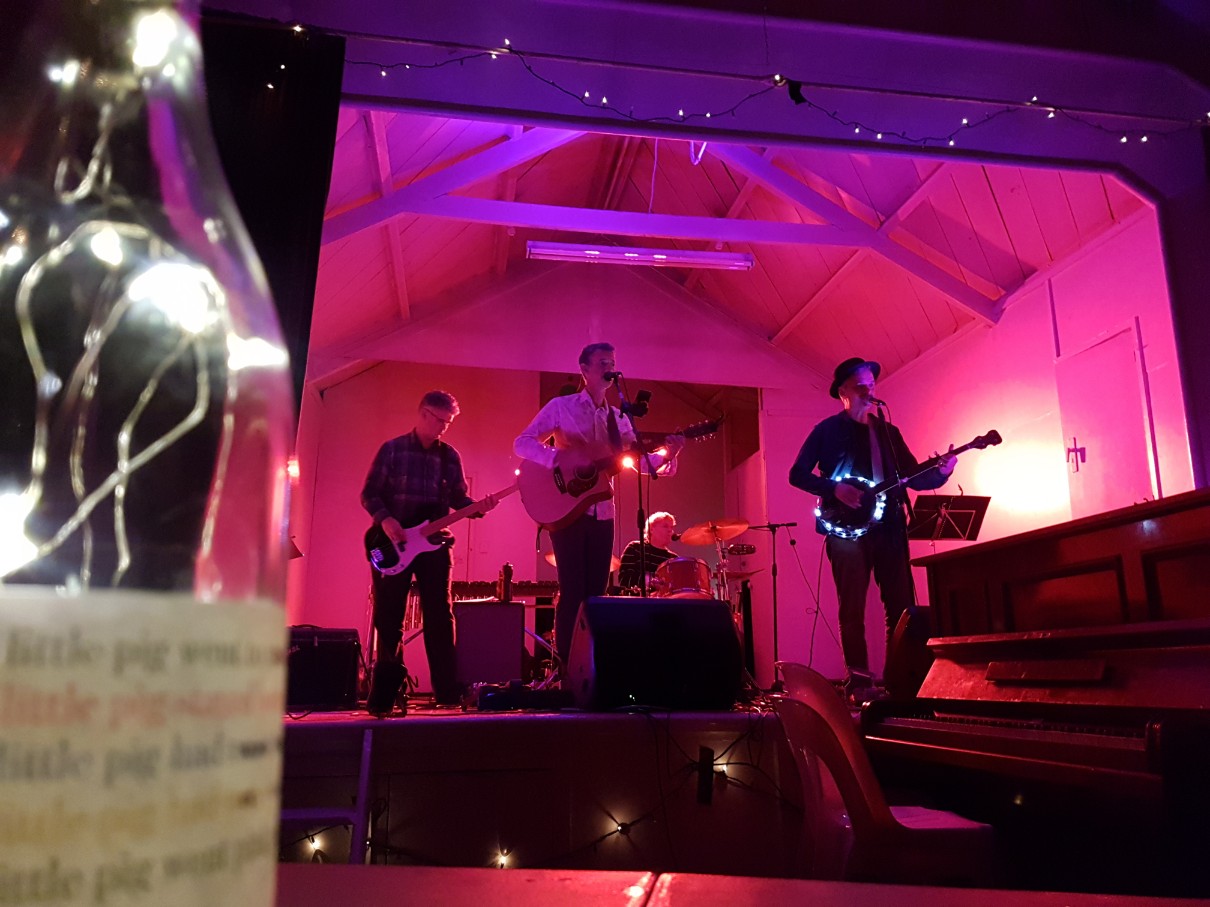 How do you find the bands for these evenings? 
I just message some the cool bands I've seen or heard about. The first two shows had Jocee Tuck, Echo Children, The Free Wind and The Remarkables.  Its quite hard for acts to find a good venue to play at, so we like to think we're doing our little bit to support the scene. The idea is to cover the venue costs and pay the bands any small profit we might make at the end of the night. 
 Wonderful line up for November, tell us a bit about Hoop and where it has come from. 
Hoop is a little off-shoot of Nick Edgar's band, The Wonderfish Collective, who are a very big 15 piece.  Nick and I were writing songs so we formed Hoop with Rusty and Glenn, who are the rhythm section in Wonderfish. One of the nice things about the association is that Hoop can bring in Wonderfish musicians if it suits the song.  For the Ministry of Folk gigs this year we're lucky enough to have Emily and Maxine on fiddle and cello,  and when we played at The Sawmill and Bethells we added the Wonderfish horns. 
 In November, we're really excited to have Tweed and Cameron Bennett. I saw them play recently at Michael Young's Bunkerhill Unplugged and they were awesome. 
We've just moved a few hundred metres to an all-new-improved hall on Grange Road Mount Eden.  The new hall has less of the  "religious look" on the inside. We don't want people to get all confused and think we sit around all night singing "Kumbaya"!
November 10th should be a magical night, so please come along and give it a go.  Tickets just $10 from Under The Radar or $15 cash on the door (children and small fluffy dogs are free and remember its BYO drinks).