Tami Neilson was packing for her tour when she answered the phone for a chat, a welcome break from the monotony she informed me. Last time I'd seen Tami play properly was at the Dynamite album release show at the Tuning Fork, she was heavily pregnant with her second son. We had a chuckle about this and how Facebook keeps throwing up photos to remind her of how she toured at seven and eight months pregnant!
"I think this attitude, it's so in my blood," She speaks of the go-getter attitude. "My mum was pregnant with me on stage up until eight months. I can remember I had to get a note from my doctor to let me fly down to the Country Music Awards in Gore because the flight cut off is one month and it was exactly a month the day I got back. When you grow up on the road with your whole family, you just do it." Tami was part of family band, The Neilsons, back in her birthplace of Canada.
The last three years have been the busiest ever for Tami, somewhat ironically. "As timing would have it, the world has a sense of humour, since I have had kids, in the last four years you'd think it would have been quieter, but I've actually toured more than I have pretty much in my whole life.  Dynamite set off this momentum and took me off all over the world."
Being a parent has proved to be the best thing for Tami Neilson's creativity however, "As a parent your time is so limited, but your creativity actually goes through the roof. The well is just deeper, you have a totally different perspective on life, suddenly the world is a much bigger place, and your priorities shift. It's not really about you anymore. It definitely makes you more empathetic and sympathetic, and suddenly you see everything in the light of this is the world I'm bringing my child into. Suddenly the music you make is a legacy to pass on and it needs to be something strong and worthy that I can put into their hands and be proud of. You want to make more of an impact with your music, social change for them."
Newest album, Sassafrass! is certainly an album that touches on social change, attempts to make the world a better place and tackles themes and ideas that challenge listeners. Tami speaks of feminism, equality, equity and justice, and gets it across to her audiences in a way that people can absorb – through dancing and grooving, with honest hard hitting lyrics.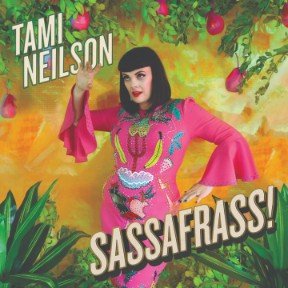 "I was three or four songs in, [writing the new album] and my mum said to me, 'Are you writing for a new album?' I said that I have a few songs, and it's starting to take shape. She asked if there was a theme emerging, and it wasn't until she asked that question that I realised. I hadn't thought about the cohesive thread running through them. It was definitely a result of the social climate, but also becoming a parent, losing a parent, my dad, and turning forty. All those things shift your perspective, and they all bring mortality to the forefront. I don't have forever, so I need to be saying what's important to me."
Tami Neilson is going on tour to celebrate this new record and she's taking a rising star, Milly Tabak and The Miltones along with her. "Their name was popping up here and there, and actually last year Milly messaged me, and I hadn't even connected that it was her. She'd asked if we needed a support act for the Song of Sinners tour, which we weren't having a support act for. I told her it was so awesome that she got in touch and I love that tenacity. She's hustling, I really love that. When I saw them perform, I hadn't even connected that that was the Milly, so it was pretty amazing. Also, it's funny, one of those unspoken golden rules of show business (that people tend to follow and not challenge) is that if you're a female act you should always have a male act open for you. It makes a different dynamic, and then it's not competition, it's just silly. I very much threw that out the window!"
Tami laughs at this, more than happy to be throwing tradition out the window. I'm reminded of seeing her at the Auckland Town Hall, or more specifically hearing her, roar with laughter at something Marlon Williams had said on stage. She is warm and always quick to laugh, the best quality for someone that finds herself up on stage, introducing awards or receiving them herself!
Sassafrass! is all Tami, this time she went in to the studio and co-produced with Ben Edwards, as Marlon Williams, Delaney Davidson, Dave Khan and her other conspirators have all gone their separate ways over the last few years.
"Especially in light of the theme of the album, I really thought it was time I stepped into the role of co-producing along with Ben. For me as a vocalist, it's really great to have a co-producer that can be that person from the outside looking in. As a vocalist, or performer, I definitely just go straight to my default setting. Ben really encourages a lot more of the nuance, he'll have me do takes that I'll really hate but it's great to have that person as a sounding board."
Tami deals out demos and references assigned to each song so that her band and Ben can get a feel what she's hearing. She laughs as she explains how the demo for 'Bananas' was delivered.
"The rough demo was pretty crazy on acoustic guitar but the songs I gave them to imagine it were the groove of Tweedle Dee by LaVern Baker, the vibe of Valerie or Come On A-My House and the third song," She snorts with amusement, "The third song was I Wanna Be Like You from the Jungle Book Disney movie. This gave them a direction without me saying 'play this exactly.'"
What has Tami been listening to?
"I guess things I'm most passionate about listening to, I buy on vinyl so looking at that, I have all my Mavis Staples staple, a stack, everything I can get my hands on. She's my go to. I've been really thrashing Eb & Sparrow's new album. It's one of those great ones, you have people over and want some vibey music, and you put that on. I was lucky enough to score the strawberry peach vinyl."
Catch Tami Neilson at the Auckland Town Hall on Saturday 4th August. Get tickets here! 
(FINN MCLENNAN-ELLIOTT)