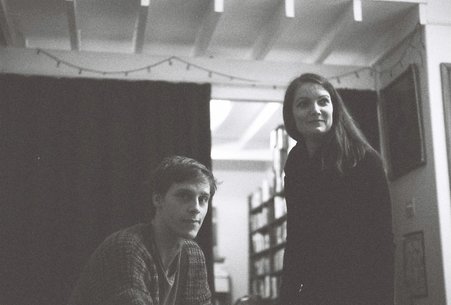 Set Free
is an absolutely beautiful new folk album from
Grawlixes
. Its twisting melodies, combined with some sardonic lyricism and instrumentation results in songs that are both catchy and thoughtfully arranged. 
Grawlixes, a folk pop duo consisting of Penelope Esplin (accordion, vocals) and Robin Cederman (guitar, vocals), originally formed in Dunedin, but are now based in Wellington. Another musical duo that started romantically and continues artistically, the group have the sort of beautiful harmonies and song arrangements that a closely linked pair have. 
The album often switches pace from melancholy, downbeat tunes like 'Set Free' to more upbeat songs such as 'Good Shadow.' 'Good Shadow' is very catchy, with rhythmic guitar, accordion and bass, and deliciously close harmonies and strings that link the song together, without any percussion. This is territory the album often delves into, with many songs with minimal or no percussion, but with a whole lot of groove and some great mixing that make it a very cohesive listen.   
It's very lush, warm and there's also something intimate about the music, especially lyrically, in songs such as 'Lover Boy' or 'Death in the Family'. I have really enjoyed this beautiful, intelligent and slightly quirky album. A must listen. 
Grawlixes are on their album release tour and stop in Auckland on Wednesday 19th at Portland Public House and on Thursday 20th at The Refreshment Room in Titirangi. All details and ticket links can be found here. 
(FRASER BROWNE)