Holly Arrowsmith just released her second album, A Dawn I Remember, and it's beautiful, from track one to nine.
We spoke with Holly just before the release of the album, and talked songwriting, touring and the recording of the album. Hit play while you read…
Two American tours and many shows have been the story for Holly Arrowsmith in between her debut LP, For The Weary Traveler, and this new one. A Dawn I Remember would take shape over two years and was written amidst a time of transition for the Arrowtown-raised, New Mexico-born singer. The natural and wilderness infused lyrics that Holly is known for are present again, from the opening line of 'The Gardener',
"The clouds roll in, down the valley where the hills are green and yellow flowers grow."
Holly spoke to the writing of the record, "I wrote the first song, or even the first couple of songs, 'Winter Moon' and 'Farewell', the week after I released my first album. I wonder whether that will happen again to me. It seems I get writers block when I'm focusing on a project and as soon as that's done, it's relief.
"I wrote the songs here and there, it didn't feel like it was over too long a period of time, although the process has been stretched out, just with life. I feel like this album, because it was written in a shorter amount of time than the last one, feels more cohesive thematically. It was written in a specific period of my life."
This is where the transitions comes in, Holly's constant movement, travel and touring. She acknowledges the ironic nature of writing like this, "It's the classic musician's thing, writing about life on the road. I don't do explicitly on any of these songs, but it was definitely during that period of time."
'Farewell' the second single from the album is a gem. She introduces it live with the nod to Auckland being quite an influence on the song. The imagery of Holly's writing, the influences she takes so clearly from nature – valleys, mountains and rivers, is still present in 'Farewell' but you can hear the scorn for its opposite, the 'big city'. Its derision of individuals, and it's lack of beauty,
"I'm going to a forest where the river is black with sin."
The song is driven by simple bass, electric guitar and the rhythmic acoustic guitar Holly plays herself. It's tackling the city as a fickle and hard to grapple place, difficult to settle in.
"Will you welcome me in? Or spit me out again?"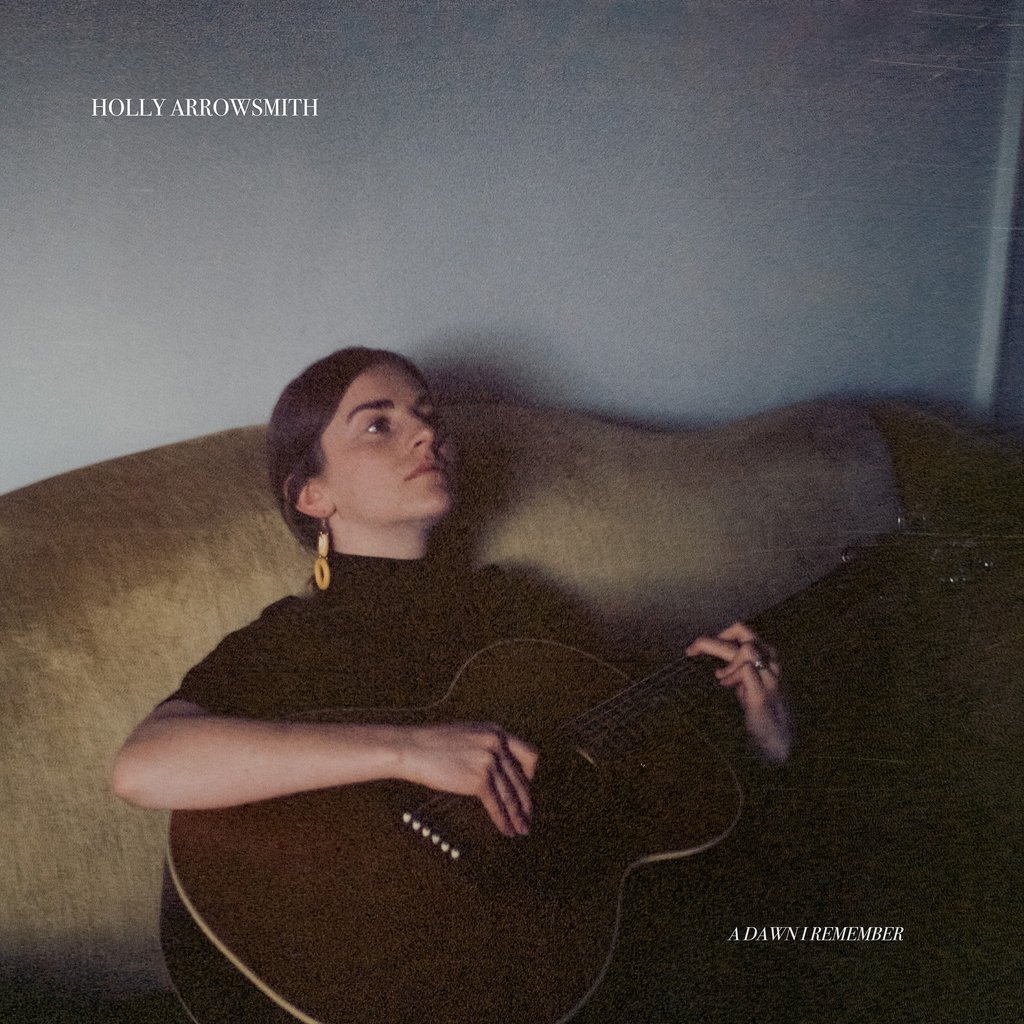 A normal day of writing for Holly doesn't really exist, it depends on her mood, her location and whether she's had inspiration.
"I probably rely on my feelings a bit too much when writing, and just do it when I feel like it! Or if I feel inspired by something. Actually, what really works for me, is leaving town, booking an Airbnb somewhere nice and having a purpose to go and write. That's how I wrote Love Together. I really want to do that once this album is out, I might go down to Dunedin."
A Dawn I Remember was recorded in two parts, firstly with Steve Roberts and Tom Lynch in Colac Bay, before Holly went to the home of the indie-folk sound in New Zealand, Ben Edwards and The Sitting Room.
"I started in Colac Bay with Tom and Steve, and we were there for two weeks. We got heaps done, the whole bones of the album, it was really fun and really productive. Because I'd come off a three-month tour, my voice was really strong, I felt like I was getting things after the first couple of takes, and that felt good. Then life happened, and the people I was working with weren't able to finish it with me."
Ben Edwards has recorded many award winning albums in recent years and is probably best known for his work with Nadia Reid, Aldous Harding, Marlon Williams and Tami Neilson. His studio, The Sitting Room, has put Lyttleton on the map as the place to go to record and produce an album.
"I contacted Ben Edwards and he really liked it and I wanted to keep it moving. I think I had another two weeks with him. I'm so grateful it worked out this way because he brought something entirely different to the album that I don't think would have happened without him."
Most of the work with Ben was on production, but they recorded 'The Gardener' and re-tracked 'Slow Train Creek', as well as added more layers and instruments with the likes of Anita Clarke (fiddle), Ryan Fisherman (bass) and tour-mate Zach Winters adding in banjo and harmonies from Oklahoma.
"It was really special having him on the record, we've done over forty shows together. Touring with Zach and his family was so much fun. The road is always more fun when you're with other musicians. Touring with Mike [the second tour of the USA] was great, but also hard work, doing the nine-hour drives and there's something about sharing a show with another musician, that means when it's done and dusted you've got a shared experience to debrief on."
Easily our best moment of the album is the final moments of 'Love Together', the lyrics, the imagery and the feelings that Holly crafted are the purest on the record.
"One day we'll have our own home / Wooden, small and warm / We can grow our food on the wild lawn / On the lawn are wild children/ They look like us / We'll teach them a little / but mostly they'll teach us."
We asked Holly what she'd been listening to recently, "I've been getting back into Tallest Man On Earth, I think it's a lot to say for an artist when you loved them ten years ago and you listen to them again and still love them. He's been releasing some new stuff too. He did this series on YouTube, and he does this cover by Both Sides Now by Joni Mitchell.
I've also been enjoying A Blaze of Feather, which is a new band that Ben Howard is in, and the guy from Hiss Golden Messenger. Also Laura Marling's new collaboration LUMP.
(FINN MCLENNAN-ELLIOTT)